We look forward to seeing you at our next seminar!
Follow us on
or join one of our discussion forums Social@Wyatt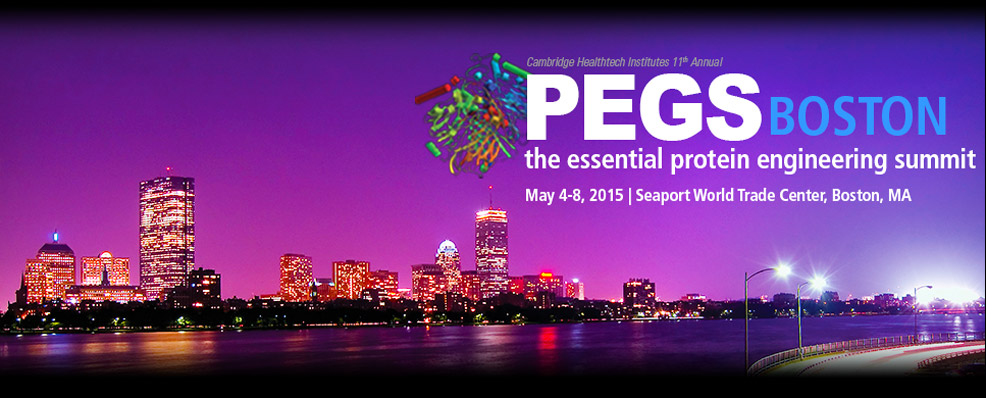 Molar Mass, Size, Charge and Conformation:
Light Scattering Tools for Biophysical Characterization of Macromolecules
presented by Dr. John Champagne, Northeast Regional Manager & Senior Applications Scientist
May 6, 2015, 12:25pm
This seminar describes a comprehensive suite of characterization tools based on static and dynamic light scattering, which work together with size-based separation, to provide first principles biophysical characterization of macromolecules. Some of the key applications of the light scattering toolbox include analyses of molar mass and size distributions, aggregation, branching and other measures of conformation, and the composition of complex protein systems and other conjugated macromolecules.
Place: Boston, MA
For more info. PEGS 2015
---

From Conjugation to Aggregation:
Light Scattering Tools for Biophysical Characterization
Workshop presented by Dr. Lucy Sun, Northwest Regional Manager, and
Dr. Sophia Kenrick, Applications Scientist
June 9, 2015, 8:00am - 12:00pm
Yerba Buena Ballroom 7-15
Biophysical techniques based on static and dynamic light scattering address many of the key analytical challenges in biotherapeutic R&D, from early candidate selection through scale-up, formulation, characterization and comparability studies. The biophysical properties investigated via light scattering include molar mass, size, charge, aggregation, conjugation and biomolecular interactions, all critical attributes of biologics with therapeutic potential.
This seminar will review light scattering theory, technology and instrumentation, then present select examples illustrating how Wyatt's light scattering solutions facilitate rapid and effective development of biologics including mAbs, ADCs, oligonucleotides, PEGylated and other proteins. We will demonstrate high-throughput screening of protein formulations for colloidal and conformational stability using the DynaPro dynamic light scattering plate reader, and additional light scattering measurements.
Place: San Francisco, CA
AAPS Meeting
---
For additional information on all seminars, please contact This e-mail address is being protected from spambots. You need JavaScript enabled to view it